HYPERCHARGE: Unboxed is set to launch on Nintendo Switch very soon. If you're unfamiliar with the original version on Steam, or if you've been wanting to play it on the go, you're soon going to be in luck.
In preparation for the game's launch, we got the opportunity to interview some of the Digital Cybercherries team: Joe Hensen, the Public Relations and Marketing Manager; Dec Doyle, Lead Programmer and Game Designer; and Ulrich Gollick, Lead Audio Engineer and Game Designer.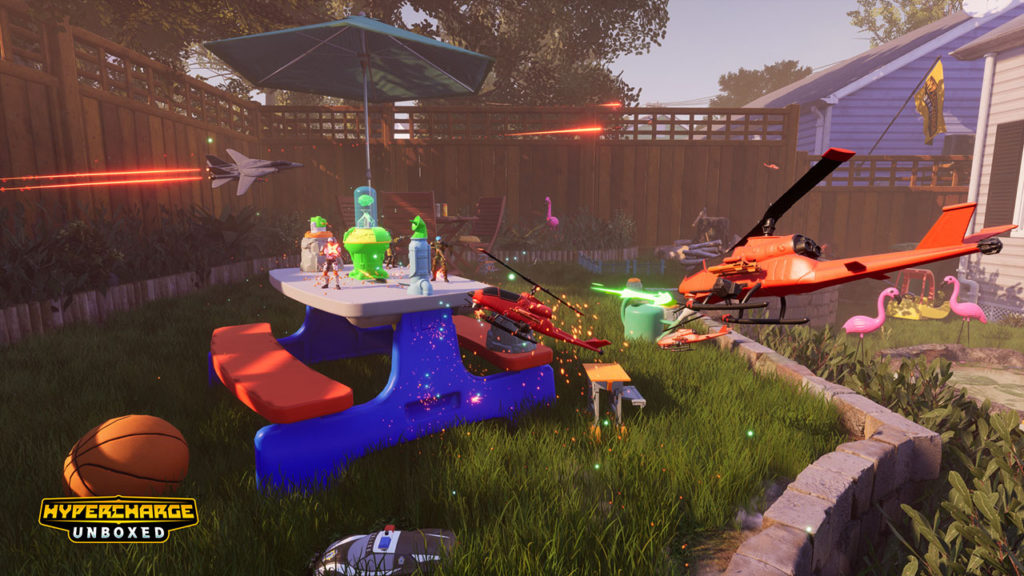 ---
NintendoFuse: How would you describe HYPERCHARGE: Unboxed?
Henson: HYPERCHARGE: Unboxed puts the player into the tiny plastic shoes of a small toy. From a PvE aspect, players can explore huge environments, search for resources, build defences and work together with their friends to defeat waves of weaponised toys.  Or if you prefer PvP, get ready for tiny-warfare to commence as you battle it out head-to-head against your friends!
NF: What was the inspiration behind HYPERCHARGE: Unboxed?
Henson: Nostalgia played a huge part. Toys are an essential part to a kid's childhood. So many imaginary battles that we were engrossed in. Movies such as Small Soldiers and Toy Story are perfect examples of bringing toys to life. Witnessing the world from such a small scale is just fascinating and pushed us towards the idea of – "what if you can play as a pint-sized toy in extremely realistic environments?"
NF: Will the game feature online multiplayer? If so, how will that function, given that some games fully use the Nintendo Switch Online service, while others do some of their own thing (i.e. choosing to use in-game chat via the console versus the smartphone app)?
Doyle: The game features online multiplayer, it will work using Nintendo's Online service. It will also work with split-screen. So you and a friend on the couch, can play with people from around the world in co-operative or player vs player game modes. For communication in-game, players can use the simple ping system and voice commands to communicate.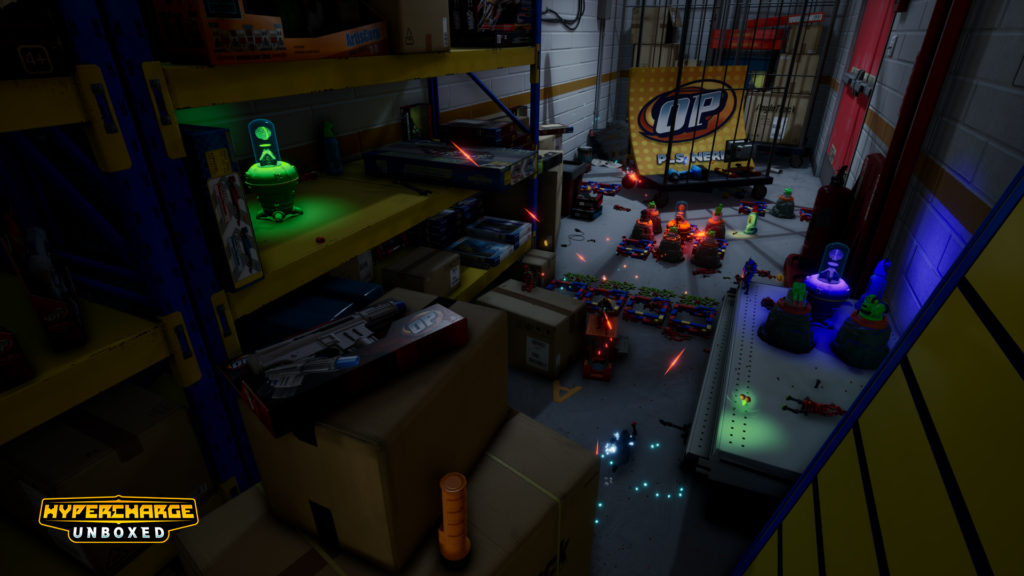 NF: Since its original early-access release on Steam in 2017, how has the gaming audience responded?
Henson: Amazingly. We have such an awesome and passionate community. We currently hold a 90% Very Positive rating on Steam, which indicates we are heading into the right direction. We value what our players have to say and always listen to their feedback and suggestions.
NF: What made you want to bring the game to Switch? And why now in 2019?
Doyle: Releasing any game on a Nintendo platform has always been a dream for most of our team, we jumped at the opportunity once we had a game worth bringing to Switch.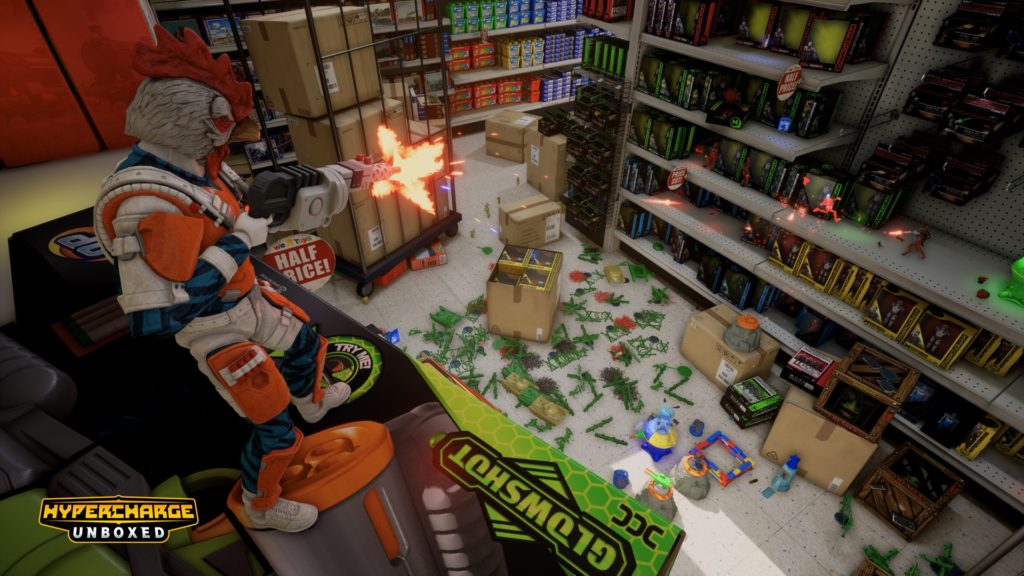 NF: What was the porting process like to bring the game from the PC to Switch?
Doyle: Porting a game for a small developer is always a challenge, and especially a game like ours with realistic graphics and huge environments full of highly detailed set pieces. It wasn't an easy thing for us, but with a lot of care and manual tweaking of lots of details, we finally were able to keep the game looking incredibly close to the PC version of the game, mostly only sacrificing some expensive unnecessary effects and details. The end result brings a great sense of pride to the whole team, and we are excited to share it with everyone.
NF: How was it working with Nintendo to get the game on Switch?
Gollick: Technically, we had to make sure everything was on par with the PC version. Anyone who worked with the Switch before probably knows what I am talking about. Talking about audio it was mostly making sure that everything was optimized as good as it possibly can be without sacrificing any noticeable changes. Luckily, we always developed with an optimized mindset and approach which made it a feasible challenge. But I'm very happy that nothing is missing, or I had to "downgrade" any of the audio elements so we can still provide a pretty clean and cool soundscape and experience for the players.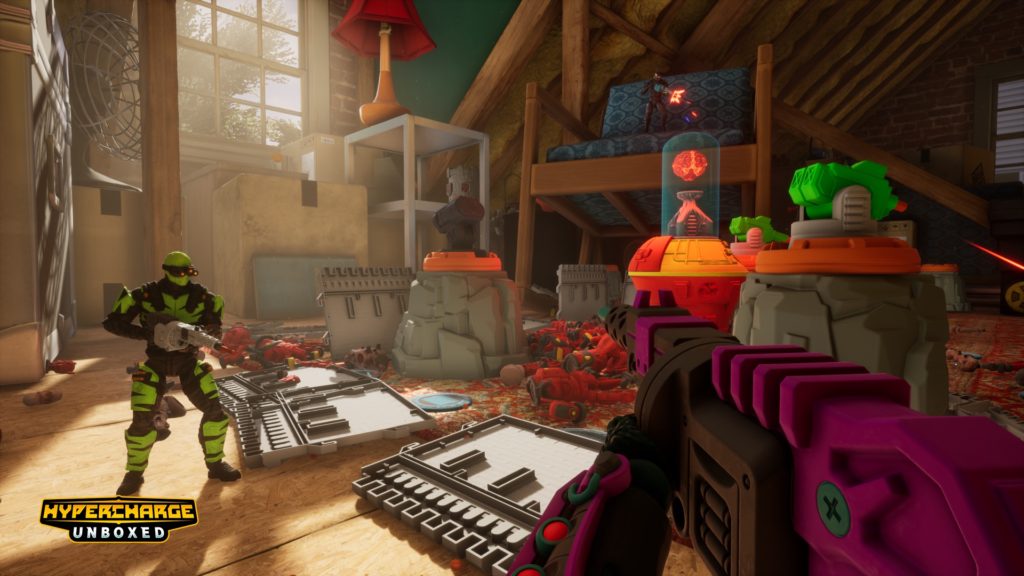 NF: When will HYPERCHARGE: Unboxed launch on Switch?
Henson: We are hoping to release HYPERCHARGE: Unboxed before the end of this year. So fingers crossed, not too far away!
NF: Will it be available solely on the eShop or will it also have a physical release? And how did you decide that?
Doyle: It will be available on the eShop. We are a very small team, and so a digital release was much more realistic for us to be able to achieve.
NF: Do you have any other projects in the works?
Henson: Oh yes. We have some pretty cool ideas for games that we'd love to bring to the Switch. But right now, our priority is HYPERCHARGE: Unboxed.
---
We want to give a huge thank you to the Digital Cybercherries team for this interview.
If you are interested in playing HYPERCHARGE: Unboxed before it launches on Nintendo Switch, you can download it on your PC via Steam today.
---
ANNOUNCEMENT TRAILER FOR HYPERCHARGE: UNBOXED ON NINTENDO SWITCH:
---
Steve is the Senior Editor of NintendoFuse and co-host of the NintendoFuse Podcast. He's been a Nintendo gamer since age 6 and has been on staff with NintendoFuse since 2008.